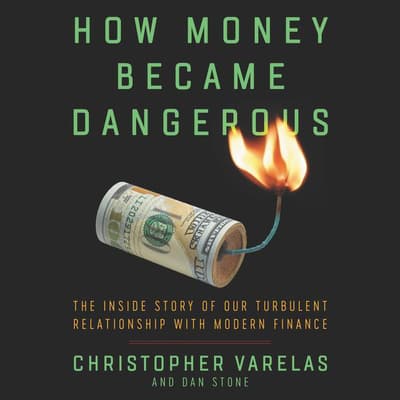 Format:

Library CD

(In Stock)
Available on 11/05/2019

ISBN: 9781982659998

Available on 11/05/2019

ISBN: 9781982659981

Available on 11/05/2019

ISBN: 9781982660000
Category:
Nonfiction/Business & Economics
Audience:
Adult
Language:
English
Summary
From a veteran of the trade, a provocative and entertaining voyage into the turbulent heart of modern money that sheds new light on the rise of our threatening and complicated financial system, how money became our adversary, and why finding a new course is crucial to a healthy society

In the not too distant past, money was simple. You might have had a bank account and a mortgage, perhaps some basic investments. Wall Street didn't have a reputation for greed and recklessness. That all started to change in the eighties, as our financial systems became increasingly complex, moving beyond the understanding of the general public while impacting our lives in innumerable ways. The financial world began to feel like an enigma—a rogue force working against us, seemingly controlled by no one.
From an industry veteran who's had firsthand involvement in the events that shaped modern money, How Money Became Dangerous journeys from the crime-ridden LA jewelry district to the cutthroat Salomon Brothers trading floor, from the high-stakes world of investment banking to the center of the technology boom, capturing the key deals, developments, and players that made the financial world what it is today. The book illuminates the dark, hidden forces of Wall Street and how it has dehumanized and left behind everyday Americans. A fresh and enlightening take on how we reached this point, How Money Became Dangerous also makes the case for why Wall Street needs to be saved, if only to save ourselves.
Editorial Reviews
"In this engaging and important book, Chris Varelas shows how the world of money became so complicated and risky." —Walter Isaacson, author of The Innovators
Details
Available Formats :
CD, Library CD, MP3 CD
Category:
Nonfiction/Business & Economics
Audience:
Adult
Language:
English
To listen to this title you will need our latest app
Due to publishing rights this title requires DRM and can only be listened to in the Blackstone Library Beta app
DRM (Digital Rights Management) is a copyright protection for digital media. While much of Blackstone Library Beta's content is DRM free, and allows for usage across platforms, select products on Blackstone Library Beta are required by publishers to have DRM protected files. These products will be playable exclusively on the BlackstoneLibrary.com apps, available for iOS and Android devices.
To listen to this title you will need our latest app