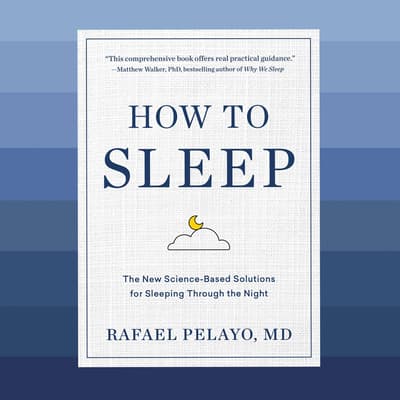 How to Sleep:
The New Science-Based Solutions for Sleeping Through the Night
Unabridged
Format :

Library CD

(In Stock)
Available on 12/08/2020

ISBN: 9781664703766

Available on 12/08/2020

ISBN: 9781664699649

Available on 12/08/2020

ISBN: 9781664703797
Category:
Nonfiction/Health & Fitness
Audience:
Adult
Language:
English
Summary
A new, comprehensive approach to improving our sleep, from the expert sleep clinician.
"Easy to read and comprehensive. This book offers real practical guidance."
—Matthew Walker, PhD, bestselling author of Why We Sleep
Sleep difficulties affect millions of people—and the problem is getting worse. The deluge of sleep advice out there, referred to collectively as "sleep hygiene" rules, consists mostly of isolated recommendations for things not to do, such as: Don't drink coffee close to bedtime. Don't watch TV in bed. Despite the popularity of these old rules, Dr. Rafael Pelayo tells us, sleep hygiene alone is rarely effective in helping people with serious sleep problems. We need new rules that reflect the growth of knowledge in sleep science and can effectively improve our health.
Pelayo's approach is to first take a step back and teach us how sleep works. He explains that nobody sleeps through the night; that the need for sleep is biological, but the way we sleep is learned; how much sleep you actually need each night, and that you can't get by with less. Then, once readers understand sleep and why it's so essential to our health and well-being, he offers a clear path to better sleep, with a flexible approach that will work for anyone. He offers a strategy for combatting jet lag: use your circadian rhythms to your advantage by maximizing your exposure to daylight. He advises you to think of napping like snacking: snacks are fine to tide you over during long stretches between meals, but if snacking too much or too late keeps you from eating dinner, it's a problem—same goes for naps and a good night's sleep! And he cautions that alcohol is a double-edged sword: it may help you fall asleep, but it also disrupts your sleep cycle. The information in this friendly, accessible book will help readers sleep better, wake up refreshed, and have a healthier life.
Details
Available Formats :
CD, Library CD, MP3 CD
Category:
Nonfiction/Health & Fitness
Audience:
Adult
Language:
English
To listen to this title you will need our latest app
Due to publishing rights this title requires DRM and can only be listened to in the Blackstone Library Beta app
DRM (Digital Rights Management) is a copyright protection for digital media. While much of Blackstone Library Beta's content is DRM free, and allows for usage across platforms, select products on Blackstone Library Beta are required by publishers to have DRM protected files. These products will be playable exclusively on the BlackstoneLibrary.com apps, available for iOS and Android devices.
To listen to this title you will need our latest app