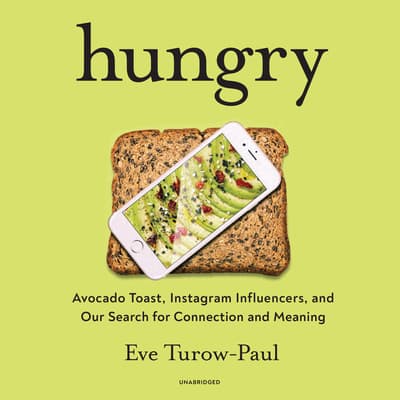 Format:

Library CD

(In Stock)
Available on 09/08/2020

ISBN: 9781799903109

Available on 09/08/2020

ISBN: 9781799903093

Available on 09/08/2020

ISBN: 9781799903116
Category:
Nonfiction/Social Science
Audience:
Adult
Language:
English
Summary
We wait in lines around the block for scoops of cookie dough. We photograph every meal. We visit selfie performance spaces and leave lucrative jobs to become farmers and craft brewers.
Why? What are we really hungry for?
In Hungry, Eve Turow-Paul provides a guided tour through the stranger corners of today's global food and lifestyle culture. How are twenty-first-century innovations and pressures are redefining people's needs and desires? How does "foodie" culture, along with other lifestyle trends, provide an answer to our rising rates of stress, loneliness, anxiety, and depression?
Weaving together evolutionary psychology and sociology with captivating investigative reporting from around the world, Turow-Paul reveals the modern hungers—physical, spiritual, and emotional—that are driving today's top trends:
The connection between the "death" of the cereal industry and access to work email on our smartphones
How posting images of our dinners on social media both fulfills and feeds our hunger for human connection in an increasingly isolated world
The ways "diet tribes" and boutique fitness gyms substitute for organized religion
How access to round-the-clock news relates to the blowback against GMO foods
Wellness retreats, astrology, plant parenthood, and other methods of easing modern anxiety
Why "eating local" might be the key to solving not just climate change, but our current global sense of disconnection
Details
Available Formats :
CD, Library CD, MP3 CD
Category:
Nonfiction/Social Science
Audience:
Adult
Language:
English
To listen to this title you will need our latest app
Due to publishing rights this title requires DRM and can only be listened to in the Blackstone Library Beta app
DRM (Digital Rights Management) is a copyright protection for digital media. While much of Blackstone Library Beta's content is DRM free, and allows for usage across platforms, select products on Blackstone Library Beta are required by publishers to have DRM protected files. These products will be playable exclusively on the BlackstoneLibrary.com apps, available for iOS and Android devices.
To listen to this title you will need our latest app