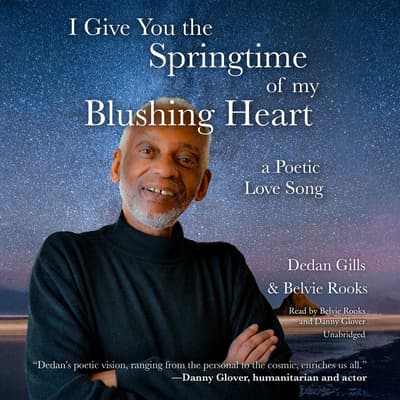 Format:

Library CD

(In Stock)
Available on 02/04/2020

ISBN: 9781094071367

Available on 02/04/2020

ISBN: 9781094071350

Available on 02/04/2020

ISBN: 9781094071374
Category:
Nonfiction/Poetry
Audience:
Adult
Language:
English
Summary
The story of Belvie Rooks and Dedan Gills, their journey and their transformation, is "as old as eternity and as new as now." As individuals, Dedan and Belvie were already activists, mentors, and voices for justice, but in their union, they became an even greater force for compassion and love. Dedan Gills (1945–2015) was a lifelong social justice and human rights activist who viewed himself as a "soulutionary." His favorite mantra—"Music is my medicine! Kindness is my song!"—was not only the hallmark of his work, but the quality of his presence. Barbara Holmes writes, "His laughter, wisdom, and attentive presence set the example of how to soar while on this human journey."
Belvie and Dedan's journey took them to Accra, where they were married; across the United States and Canada to plant trees and build community as a part of their organization, Growing a Global Heart; into dialogue with people of all ages; and through Dedan's diagnosis with cancer and passing at Zen Hospice in San Francisco in 2015. This book, born of this journey, speaks to love that is at once personal, collective, and cosmic. Each page holds an invitation to seek beauty amidst heartbreak, and to raise the level of our humanity. Belvie's wisdom and listening for how this book wanted to be written, and the reflections of many who knew Dedan well, allow it to resonate with remembrance, but also with a future born of each of us.
Editorial Reviews
"This beautiful and engaging love story by two friends and lifelong human rights and social justice activists models what love can be in these times. Dedan's poetic vision, ranging from the personal to the cosmic, enriches us all."
—
Danny Glover, humanitarian and actor
"A poetic celebration of life. We owe a debt of gratitude to Belvie and Dedan for this moving testament to the eternal power of love, both personal and cosmic." —Riane Eisler, author of The Chalice and the Blade
Details
Available Formats :
CD, Library CD, MP3 CD
Category:
Nonfiction/Poetry
Audience:
Adult
Language:
English
To listen to this title you will need our latest app
Due to publishing rights this title requires DRM and can only be listened to in the Blackstone Library Beta app
DRM (Digital Rights Management) is a copyright protection for digital media. While much of Blackstone Library Beta's content is DRM free, and allows for usage across platforms, select products on Blackstone Library Beta are required by publishers to have DRM protected files. These products will be playable exclusively on the BlackstoneLibrary.com apps, available for iOS and Android devices.
To listen to this title you will need our latest app