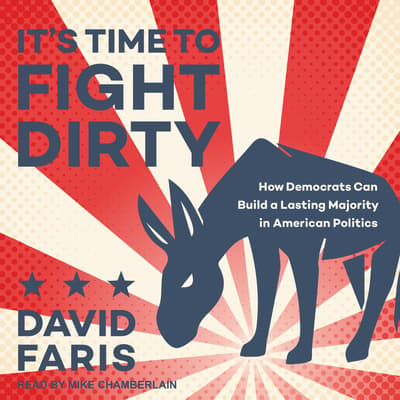 Format :

Library CD

(In Stock)
Category:
Nonfiction/Political Science
Audience:
Adult
Language:
English
Summary
The American electoral system is clearly falling apart—as evidenced by the 2016 presidential election. In It's Time to Fight Dirty, David Faris offers accessible, actionable strategies for American institutional reform which don't require a constitutional amendment, and would have a lasting impact on our future.

With equal amounts of playful irreverence and persuasive reasoning, Faris describes how the Constitution's deep democratic flaws constantly put progressives at a disadvantage, and lays out strategies for "fighting dirty" though obstructionism and procedural warfare: establishing statehood for D.C. and Puerto Rico; breaking California into several states; creating a larger House of Representatives; passing a new voting rights act; and expanding the Supreme Court.

The Constitution may be the world's most difficult document to amend, but David Faris argues that many of America's democratic failures can be fixed within its rigid confines—and, at a time when the stakes have never been higher, he outlines a path for long-term, progressive change in the United States.
Editorial Reviews
"There are more of us than there are of them, so let's fight like it…If we listen to David Faris, it's a fight we can win." —David Daley, author of Ratf**ked
"A worthy contribution to the ongoing American experiment." —Booklist
"Should be mandatory reading by every Dem leader." —Daily Kos
Details
Available Formats :
CD, Library CD
Category:
Nonfiction/Political Science
Audience:
Adult
Language:
English
To listen to this title you will need our latest app
Due to publishing rights this title requires DRM and can only be listened to in the Blackstone Library Beta app
DRM (Digital Rights Management) is a copyright protection for digital media. While much of Blackstone Library Beta's content is DRM free, and allows for usage across platforms, select products on Blackstone Library Beta are required by publishers to have DRM protected files. These products will be playable exclusively on the BlackstoneLibrary.com apps, available for iOS and Android devices.
To listen to this title you will need our latest app