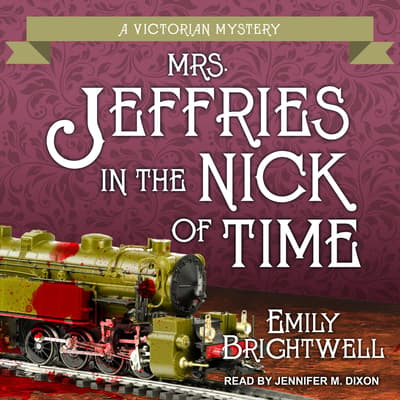 Format:

CD

(In Stock)
Available on 12/10/2019

ISBN: 9781494542047

Available on 12/10/2019

ISBN: 9781494542047
Category:
Fiction/Mystery & Detective
Audience:
Adult
Language:
English
Summary
She keeps house for Inspector Witherspoon . . . and keeps him on his toes. Everyone's awed by his Scotland Yard successes—but they don't know about his secret weapon. No matter how messy the murder or how dirty the deed, Mrs. Jeffries's polished detection skills are up to the task . . . proving that behind every great man there's a woman—and that a crimesolver's work is never done.

A two-story killer.

Train enthusiast Francis Humphreys took his last breath while relatives and neighbors visited downstairs. But if everyone was downstairs, who could have stolen into Uncle Francis's study, killed him, and escaped? Mrs. Jeffries will have to lend her downstairs common sense to this upstairs murder mystery.
Details
Available Formats :
CD, Library CD
Category:
Fiction/Mystery & Detective
Audience:
Adult
Language:
English
To listen to this title you will need our latest app
Due to publishing rights this title requires DRM and can only be listened to in the Downpour app
DRM (Digital Rights Management) is a copyright protection for digital media. While much of Downpour's content is DRM free, and allows for usage across platforms, select products on Downpour are required by publishers to have DRM protected files. These products will be playable exclusively on the Downpour.com apps, available for iOS and Android devices.