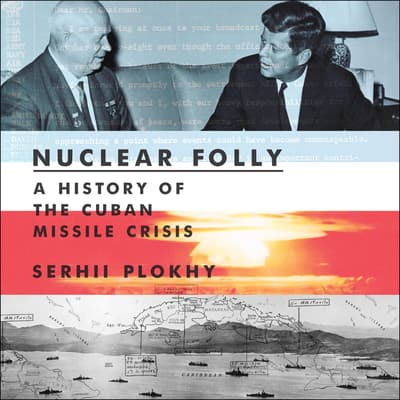 Format :

Library CD

(In Stock)
Available on 06/15/2021

ISBN: 9781665189255

Available on 06/15/2021

ISBN: 9781665189231

Available on 06/15/2021

ISBN: 9781665189248
Category:
Nonfiction/History
Audience:
Adult
Language:
English
Summary
Nearly thirty years after the end of the Cold War, today's world leaders are abandoning disarmament treaties, building up their nuclear arsenals, and exchanging threats of nuclear strikes. To survive this new atomic age, we must relearn the lessons of the most dangerous moment of the Cold War: the Cuban missile crisis.

Serhii Plokhy's Nuclear Folly offers an international perspective on the crisis, tracing the tortuous decision-making that produced and then resolved it, which involved John Kennedy and his advisers, Nikita Khrushchev and Fidel Castro, and their commanders on the ground. In breathtaking detail, Plokhy vividly recounts the young JFK being played by the canny Khrushchev; the hotheaded Castro willing to defy the USSR and threatening to align himself with China; the Soviet troops on the ground, desperately trying to conceal nuclear installations on Cuba; and the hair-raising near misses at sea that nearly caused a Soviet nuclear-armed submarine to fire its weapons.

More often than not, the Americans and Soviets misread each other, operated under false information, and came perilously close to nuclear catastrophe. Despite these errors, nuclear war was ultimately avoided for one central reason: fear, and the realization that any escalation on either the Soviets' or the Americans' part would lead to mutual destruction.
Details
Available Formats :
CD, Library CD, MP3 CD
Category:
Nonfiction/History
Audience:
Adult
Language:
English
To listen to this title you will need our latest app
Due to publishing rights this title requires DRM and can only be listened to in the Blackstone Library app
DRM (Digital Rights Management) is a copyright protection for digital media. While much of Blackstone Library's content is DRM free, and allows for usage across platforms, select products on Blackstone Library are required by publishers to have DRM protected files. These products will be playable exclusively on the BlackstoneLibrary.com apps, available for iOS and Android devices.
To listen to this title you will need our latest app