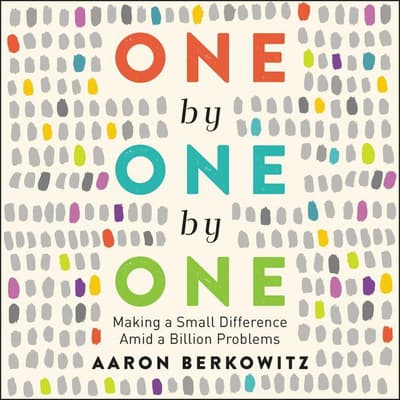 Format:

Library CD

(In Stock)
Available on 06/02/2020

ISBN: 9781094159867

Available on 06/02/2020

ISBN: 9781094159850

Available on 06/02/2020

ISBN: 9781094159874
Category:
Nonfiction/Biography
Audience:
Adult
Language:
English
Summary
In the spirit of Tracy Kidder's Mountains Beyond Mountains, and joining the ranks of works by Bryan Stevenson, Matthew Desmond, Abraham Verghese and Oliver Sachs, the inspiring story of a young American neurologist's struggle to make a difference in Haiti by treating one patient—a story of social justice, clashing cultures, and what it means to treat strangers as members of our family.
Dr. Aaron Berkowitz, a well-meaning Harvard Medical School neurologist, became a doctor to build bridges between a very rich world and a very poor one. But his idealism was tested when he traveled to Haiti to treat some of the world's neediest patients. One by One by One is the poignant chronicle of the ups and downs, the reverses and triumphs Dr. Berkowitz experienced trying to accomplish his dream. It is the story of his attempt to make the first big save of his career: a desperately poor young patient from rural Haiti named Janel who had the largest brain tumor any neurosurgeon at a major Harvard teaching hospital had ever seen.
"My naïve optimism as a novice humanitarian physician was shattered at every twist and turn as I faced countless unexpected medical, logistical, and psychosocial challenges," he writes. Forming a special bond with Janel, whom he brings back to Boston to treat, he experiences the tensions between his world and Janel's, as they move between the modern technology of Harvard Medical School and the shanties and clinics of Haiti. It is a journey fraught with deprivation and frustration yet enriched by the support of generous and brilliant friends and colleagues.
Throughout, Dr. Berkowitz confronts ethical questions: How can a doctor advocate for the expense of treating just one patient when that money can be used to care for so many others in need? How are the challenges of medical care complicated by class, wealth, culture, language, and race? What are the unintended consequences that can result from even the best of intentions? Powerful and thought-provoking, One by One by One offers invaluable lessons for everyone who wants to make a difference—and a reminder that we must choose carefully which good actions to take on.
Editorial Reviews
"Vivid, clear-eyed, and very smart…For medical relief workers around the world, it must be required reading. For the rest of us, too." —Amy Wilentz, author of Farewell Fred Voodoo
Details
Available Formats :
CD, Library CD, MP3 CD
Category:
Nonfiction/Biography
Audience:
Adult
Language:
English
To listen to this title you will need our latest app
Due to publishing rights this title requires DRM and can only be listened to in the Blackstone Library Beta app
DRM (Digital Rights Management) is a copyright protection for digital media. While much of Blackstone Library Beta's content is DRM free, and allows for usage across platforms, select products on Blackstone Library Beta are required by publishers to have DRM protected files. These products will be playable exclusively on the BlackstoneLibrary.com apps, available for iOS and Android devices.
To listen to this title you will need our latest app