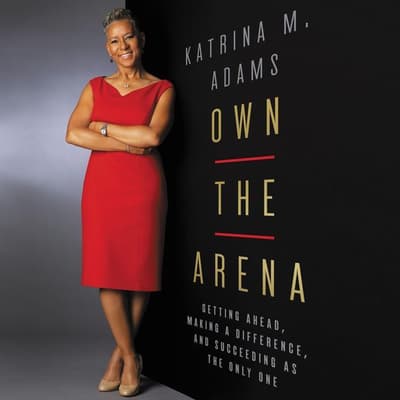 Own the Arena: Getting Ahead, Making a Difference, and Succeeding as the Only One
Unabridged
Format:

Library CD

(In Stock)
Available on 02/23/2021

ISBN: 9781094167909

Available on 02/23/2021

ISBN: 9781094167893

Available on 02/23/2021

ISBN: 9781094167916
Category:
Nonfiction/Biography
Audience:
Adult
Language:
English
Summary
From the former President and CEO of the United States Tennis Association—the first black woman and youngest person ever to hold the position—comes a behind-the-scenes look at the leadership skills involved in hosting the U.S. Open, the largest and most lucrative sports event in the world—lessons that can be applied across business and to any life challenge.
One of professional tennis's Grand Slam Tournaments, the U.S. Open has been described as a fourteen-day Superbowl. This single tennis championship, held annually in New York City, attracts top professionals from around the globe, generates more money than any other sporting event—or any other sport over an entire season—and attracts more than 700,000 attendees and millions of television viewers.
In Own the Arena, Katrina Adams offers a privileged, singular inside look at this sensational global event, while elaborating on what makes tennis the only sport of a lifetime. She opens with the women's 2018 championship match between Naomi Osaka and Serena Williams that ended in boos. This was Adams's last year as president and the whole world was watching. How would she respond? How should the press be handled? What needs to be said to Osaka? Serena? What does this break from decorum mean for the Open and the sport?
As Adams shares a wealth of stories from her career and personal life, as well as insights from top tennis professionals, she provides invaluable information on meeting life's tests both on the tennis court and off. Own the Arena offers fresh perspectives on having presence, being remembered, directing a conversation, and moving boldly in spaces where "you are the only one." It also covers good sportsmanship—treating others with respect and by being inclusive and open to diverse perspectives. Tennis is said to be 90 percent mental; this book shows how to take the elements of mental fortitude and use them to achieve greatness. By embracing and expressing one's inner grace and humanity, Adams shows, you can own the arena.
Details
Available Formats :
CD, Library CD, MP3 CD
Category:
Nonfiction/Biography
Audience:
Adult
Language:
English
To listen to this title you will need our latest app
Due to publishing rights this title requires DRM and can only be listened to in the Blackstone Library Beta app
DRM (Digital Rights Management) is a copyright protection for digital media. While much of Blackstone Library Beta's content is DRM free, and allows for usage across platforms, select products on Blackstone Library Beta are required by publishers to have DRM protected files. These products will be playable exclusively on the BlackstoneLibrary.com apps, available for iOS and Android devices.
To listen to this title you will need our latest app