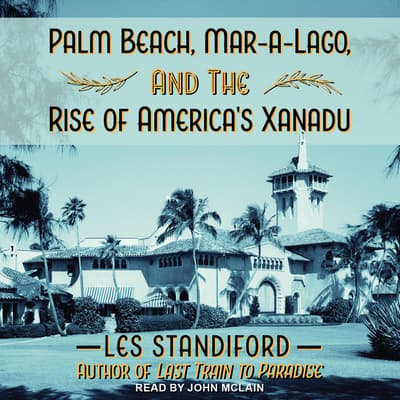 Format:

Library CD

(In Stock)
Category:
Nonfiction/History
Audience:
Adult
Language:
English
Summary
Looking at the island of Palm Beach today, with its unmatched mansions, tony shops, and pristine beaches, one is hard pressed to visualize the dense tangle of Palmetto brush and mangroves that it was when visionary entrepreneur and railroad tycoon Henry Flagler first arrived there in April 1893. Trusting his remarkable instincts, within less than a year he had built the Royal Poinciana Hotel, and two years later what was to become the legendary Breakers—instantly establishing the island as the preferred destination for those who could afford it. Over the next 125 years, Palm Beach has become synonymous with exclusivity—especially its most famous residence, "Mar-a-Lago." As Les Standiford relates, "the high walls of Mar-a-Lago and other manses like it were seemingly designed to contain scandal within as much as keep intruders out."

With the authority and narrative prose style that has gained Standiford's work widespread acclaim, Palm Beach, Mar-a-Lago, and the Rise of America's Xanadu tells the history of this fabled landscape intertwined with the colorful lives of its famous protagonists.
Details
Available Formats :
CD, Library CD
Category:
Nonfiction/History
Audience:
Adult
Language:
English
To listen to this title you will need our latest app
Due to publishing rights this title requires DRM and can only be listened to in the Blackstone Library Beta app
DRM (Digital Rights Management) is a copyright protection for digital media. While much of Blackstone Library Beta's content is DRM free, and allows for usage across platforms, select products on Blackstone Library Beta are required by publishers to have DRM protected files. These products will be playable exclusively on the BlackstoneLibrary.com apps, available for iOS and Android devices.
To listen to this title you will need our latest app