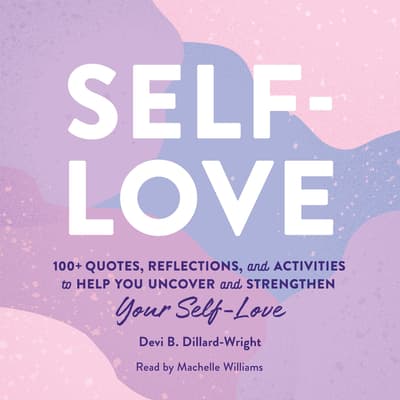 Self-Love:
100+ Quotes, Reflections, and Activities to Help You Uncover and Strengthen Your Self-Love
Unabridged
Format :

Library CD

(In Stock)
Available on 01/12/2021

ISBN: 9781797121246

Available on 01/12/2021

ISBN: 9781797121239
Category:
Nonfiction/Self-Help
Audience:
Adult
Language:
English
Summary
Embrace the power of self-love with these 120 calming, thought-provoking reflections designed to boost self-compassion, understanding, and authenticity.

Loving yourself isn't always easy. There is so much negativity around—criticism, impossibly high standards, perfectionism—it is easy to lose sight of how wonderful you really are. But with a little self-love, you can get back on track.

In Self-Love, you'll find 120 reflections that will help you cultivate and strengthen self-love. From recognizing the power of your body to forgiving yourself for past mistakes, this simple yet empowering guide will provide the tools to reconstruct how you view yourself. Each reflection comes with a short exercise that will help you actively build self-love and not just view it as an abstract concept.

From self-loathing to self-compassion, you deserve to love yourself and celebrate the greatness within. So open your mind, take a few deep breaths, focus on the desire to change and you will learn to love yourself more than you ever have before.
Details
Available Formats :
CD, Library CD
Category:
Nonfiction/Self-Help
Audience:
Adult
Language:
English
To listen to this title you will need our latest app
Due to publishing rights this title requires DRM and can only be listened to in the Blackstone Library Beta app
DRM (Digital Rights Management) is a copyright protection for digital media. While much of Blackstone Library Beta's content is DRM free, and allows for usage across platforms, select products on Blackstone Library Beta are required by publishers to have DRM protected files. These products will be playable exclusively on the BlackstoneLibrary.com apps, available for iOS and Android devices.
To listen to this title you will need our latest app