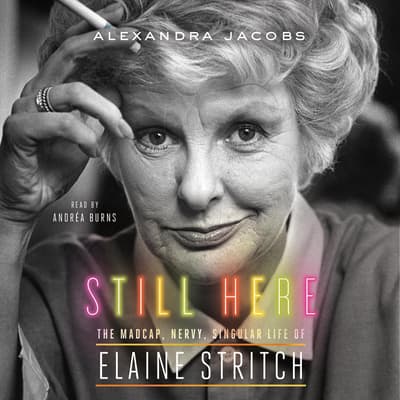 Format:

Library CD

(In Stock)
Available on 11/05/2019

ISBN: 9781250241863

Available on 11/05/2019

ISBN: 9781250241863
Category:
Nonfiction/Biography
Audience:
Adult
Language:
English
Summary
New York Times Pick of the Month
The ebullient, troubled life of a Broadway legend who became a heroine to a younger generation

Still Here is the first full telling of Elaine Stritch's life. Rollicking but intimate, it tracks one of Broadway's great personalities from her upbringing in Detroit during the Great Depression to her fateful move to New York City, where she studied alongside Marlon Brando, Bea Arthur, and Harry Belafonte. We accompany Elaine through her jagged rise to fame, to Hollywood and London, and across her later years, when she enjoyed a stunning renaissance, punctuated by a turn on the popular television show 30 Rock. We explore the influential—and often fraught—collaborations she developed with Noël Coward, Tennessee Williams, and above all Stephen Sondheim, as well as her courageous yet flawed attempts to control a serious drinking problem. And we see the entertainer triumphing over personal turmoil with the development of her Tony Award–winning one-woman show, Elaine Stritch at Liberty, which established her as an emblem of spiky independence and Manhattan life for an entirely new generation of admirers.
In Still Here, Alexandra Jacobs conveys the full force of Stritch's sardonic wit and brassy charm while acknowledging her many dark complexities. Following years of meticulous research and interviews, this is a portrait of a powerful, vulnerable, honest, and humorous figure who continues to reverberate in the public consciousness.
Editorial Reviews
"An acting lesson, a therapy session, a chance to know the great La Stritch. This book is your chance." —Alec Baldwin, actor, comedian, and New York Times bestselling author
"Chronicles the brash, boozy career of the legendary Broadway star in this biography, diving into her relationships, her breakout fame in Hollywood, and her notable collaborations, including those with Tennessee Williams and Stephen Sondheim." —New York Times Book Review
"This dishy biography will be a ride for the theatrically inclined as Stritch's seventy-year career crosses those of Marlon Brando, Ethel Merman, Noël Coward, Angela Lansbury, Bea Arthur, and, of course, Hal Prince and Stephen Sondheim." —Booklist
Details
Available Formats :
CD, Library CD
Category:
Nonfiction/Biography
Audience:
Adult
Language:
English
To listen to this title you will need our latest app
Due to publishing rights this title requires DRM and can only be listened to in the Blackstone Library Beta app
DRM (Digital Rights Management) is a copyright protection for digital media. While much of Blackstone Library Beta's content is DRM free, and allows for usage across platforms, select products on Blackstone Library Beta are required by publishers to have DRM protected files. These products will be playable exclusively on the BlackstoneLibrary.com apps, available for iOS and Android devices.
To listen to this title you will need our latest app