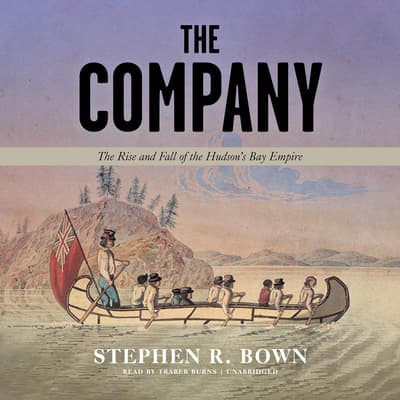 Format :

Library CD

(In Stock)
Available on 06/29/2021

ISBN: 9781665057714

Available on 06/29/2021

ISBN: 9781665057707

Available on 06/29/2021

ISBN: 9781665057721
Category:
Nonfiction/History
Audience:
Adult
Language:
English
Summary
A thrilling new telling of the story of modern Canada's origins
The story of the Hudson's Bay Company, dramatic and adventurous and complex, is the story of modern Canada's creation. And yet it hasn't been told in a book for over thirty years and never in such depth and vivid detail as in Stephen R. Bown's exciting new telling.
The company started out small in 1670, trading practical manufactured goods for furs with the indigenous inhabitants of inland subarctic Canada. Controlled by a handful of English aristocrats, it expanded into a powerful political force that ruled the lives of many thousands of people—from the lowlands south and west of Hudson Bay, to the tundra, the great plains, the Rocky Mountains, and the Pacific northwest. It transformed the culture and economy of many indigenous groups and ended up as the most important political and economic force in northern and western North America.
When the company was faced with competition from French traders in the 1780s, the result was a bloody corporate battle, the coming of Governor George Simpson—one of the greatest villains in Canadian history—and the company assuming political control and ruthless dominance. By the time its monopoly was rescinded after two hundred years, the Hudson's Bay Company had reworked the entire northern North American world.
Stephen R. Bown has a scholar's profound knowledge and understanding of the Hudson's Bay Company's history but wears his learning lightly in a narrative as compelling and rich in well-drawn characters as a page-turning novel.
Editorial Reviews
"Absorbing and nuanced…What distinguishes The Company's popular history is Bown's highlighting of those dynamic Indigenous polities and, as far as the historical records allow, some key individuals within them."
—
Maclean's (Toronto)
"Tells the story of the Hudson's Bay Company with verve and an astringent, contemporary slant…The Company is compelling, both as a lively narrative about a corporation that helped shape North American development and as a thoughtful exploration of the complex indigenous cultures that once dominated the continent."
—
Wall Street Journal
Details
Available Formats :
CD, Library CD, MP3 CD
Category:
Nonfiction/History
Audience:
Adult
Language:
English
To listen to this title you will need our latest app
Due to publishing rights this title requires DRM and can only be listened to in the Blackstone Library app
DRM (Digital Rights Management) is a copyright protection for digital media. While much of Blackstone Library's content is DRM free, and allows for usage across platforms, select products on Blackstone Library are required by publishers to have DRM protected files. These products will be playable exclusively on the BlackstoneLibrary.com apps, available for iOS and Android devices.
To listen to this title you will need our latest app