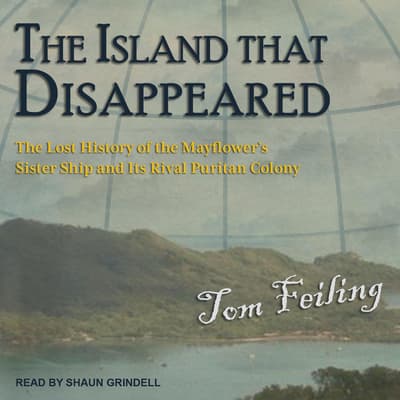 The Island that Disappeared: The Lost History of the Mayflower's Sister Ship and Its Rival Puritan Colony
By Tom Feiling
Read by Shaun Grindell
Unabridged
Format:

Library CD

(In Stock)
Category:
Nonfiction/History
Audience:
Adult
Language:
English
Summary
The creation myth of the United States begins with the plucky English puritans of the Mayflower—but what about the story of its sister ship, the Seaflower?

Few people today know the story of the passengers aboard the Seaflower, who in 1630 founded a rival puritan colony on an isolated Caribbean island called Providence. They were convinced that England's empire would rise not in barren New England, but rather in tropical Central America.

However, Providence became a colony in constant crisis: crops failed, slaves revolted . . . and then there were the pirates. And, as Tom Feiling discovers in this surprising history, the same drama was played out by the men and women who re-settled the island one hundred years later.

The Island That Disappeared presents Providence as a fascinating microcosm of colonialism—even today. At first glance it is an island of devout churchgoers—but look a little closer, and you see that it is still dependent on its smugglers.

At once intimate and global, this story of puritans and pirates goes to the heart of the contradictory nature of the Caribbean and how the Western World took shape.
Editorial Reviews
"An intricately woven narrative that captivates the reader…A highly informative, perception-altering, and richly entertaining story." —Booklist
"A spirited narrative bursting with eccentric characters…A tumultuous history briskly told." —Kirkus Reviews
Details
Available Formats :
CD, Library CD
Category:
Nonfiction/History
Audience:
Adult
Language:
English
To listen to this title you will need our latest app
Due to publishing rights this title requires DRM and can only be listened to in the Blackstone Library Beta app
DRM (Digital Rights Management) is a copyright protection for digital media. While much of Blackstone Library Beta's content is DRM free, and allows for usage across platforms, select products on Blackstone Library Beta are required by publishers to have DRM protected files. These products will be playable exclusively on the BlackstoneLibrary.com apps, available for iOS and Android devices.
To listen to this title you will need our latest app