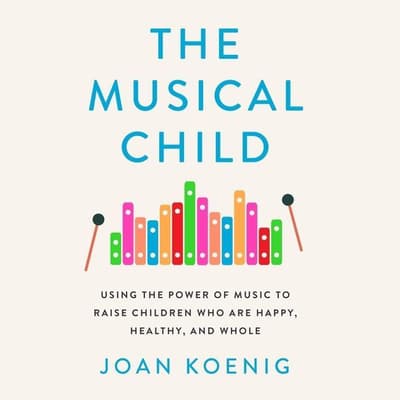 The Musical Child: Using the Power of Music to Raise Children Who Are Happy, Healthy, and Whole
By Joan Koenig
Unabridged
Format :

Library CD

(In Stock)
Available on 07/06/2021

ISBN: 9780358450269

Available on 07/06/2021

ISBN: 9781799968726

Available on 07/06/2021

ISBN: 9781799968733
Category:
Nonfiction/Family & Relationships
Audience:
Adult
Language:
English
Summary
A pioneering music educator reveals how music can supercharge early childhood development—and how parents and educators can harness its power.
Since opening her famed Parisian conservatory over three decades ago, Joan Koenig has led a global movement to improve children's lives and minds with the transformative power of music. With a curriculum and philosophy drawn from cutting-edge science, L'Ecole Koenig has educated and empowered even its youngest students, from baby Max, whose coordination and communication grow as he wiggles and coos along to targeted songs and dance, to five-year-old Sara, who nourishes her empathy, creativity, and memory while practicing music from other cultures. In The Musical Child, Koenig shares stories from her classrooms, along with tips about how to use the latest research during the critical years when children are most sensitive to musical exposure—and most receptive to its benefits.
A gift for parents, caregivers, musicians, and educators, The Musical Child reveals the multiple ways music can help children thrive—and how, in the twenty-first century, its practice is more vital than ever.
Details
Available Formats :
CD, Library CD, MP3 CD
Category:
Nonfiction/Family & Relationships
Audience:
Adult
Language:
English
To listen to this title you will need our latest app
Due to publishing rights this title requires DRM and can only be listened to in the Blackstone Library app
DRM (Digital Rights Management) is a copyright protection for digital media. While much of Blackstone Library's content is DRM free, and allows for usage across platforms, select products on Blackstone Library are required by publishers to have DRM protected files. These products will be playable exclusively on the BlackstoneLibrary.com apps, available for iOS and Android devices.
To listen to this title you will need our latest app