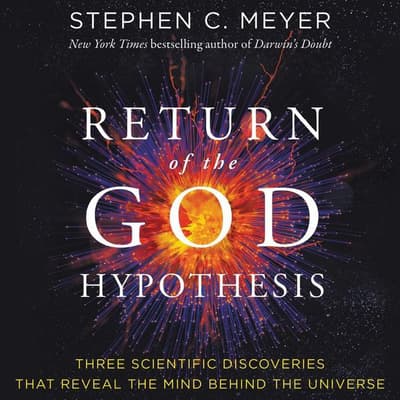 The Return of the God Hypothesis: Compelling Scientific Evidence for the Existence of God
Unabridged
Format:

Library CD

(In Stock)
Available on 04/15/2022

ISBN: 9781982662486

Available on 04/15/2022

ISBN: 9781982662479

Available on 04/15/2022

ISBN: 9781982662493
Category:
Nonfiction/Science
Audience:
Adult
Language:
English
Summary
The Return of the God Hypothesis has descriptive copy which is not yet available from the Publisher.
Editorial Reviews
"Meyer writes beautifully. He marshals complex information as well as any writer I've read…a wonderful, most compelling read." —Dean Koontz, #1 New York Times bestselling author, on Darwin's Doubt
Details
Available Formats :
CD, Library CD, MP3 CD
Category:
Nonfiction/Science
Audience:
Adult
Language:
English
To listen to this title you will need our latest app
Due to publishing rights this title requires DRM and can only be listened to in the Blackstone Library Beta app
DRM (Digital Rights Management) is a copyright protection for digital media. While much of Blackstone Library Beta's content is DRM free, and allows for usage across platforms, select products on Blackstone Library Beta are required by publishers to have DRM protected files. These products will be playable exclusively on the BlackstoneLibrary.com apps, available for iOS and Android devices.
To listen to this title you will need our latest app