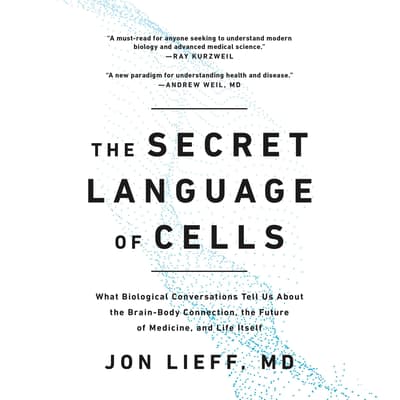 The Secret Language of Cells: What Biological Conversations Tell Us About the Brain-Body Connection, the Future of Medicine, and Life Itself
Unabridged
Format:

Library CD

(In Stock)
Available on 09/22/2020

ISBN: 9781721365807

Available on 09/22/2020

ISBN: 9781721365807
Category:
Nonfiction/Science
Audience:
Adult
Language:
English
Summary
Your cells are talking about you.
Right now, both your inner and outer worlds are abuzz with chatter among living cells of every possible kind—from those in your body and brain to those in the environment around you. From electrical alerts to chemical codes, the greatest secret of modern biology, hiding in plain sight, is that all of life's activity boils down to one thing: conversation.
While cells are commonly considered the building block of living things, it is actually the communication between cells that brings us to life, controlling our bodies and brains, determining whether we are healthy or sick, and directly influencing how we think, feel, and behave.
In The Secret Language of Cells, doctor and neuroscientist Jon Lieff lets us listen in on these conversations, and reveals their significance for everything from mental health to cancer. He explains the surprising science of how very different cells—bacteria and brain cells, blood cells and viruses—all speak the same language. This overarching principle has been long overlooked because scientific journals use impenetrable jargon that makes it hard to be understood across disciplines, much less by the general public.
Lieff presents a fascinating and accessible look into cellular communication science—a groundbreaking and comprehensive exploration of this biological phenomenon. In these pages, discover the intriguing lives of cells as they ask questions, get answers, give feedback, gather information, call for each other, and make complex decisions. During infections, immune T-cells tell brain cells that we should "feel sick" and lie down. Cancer cells warn their community about immune and microbe attacks. Gut cells talk with microbes to determine which are friends and which are enemies, and microbes talk with each other and with much more complicated human cells in ways that determine which medicines work and which will fail.
With applications for immunity, chronic pain, weight loss, depression, cancer treatment, and virtually every aspect of health and biology, cellular communication is revolutionizing our understanding not just of disease, but of life itself. The Secret Language of Cells is required reading for anyone interested in following the conversation.
Details
Available Formats :
CD, Library CD
Category:
Nonfiction/Science
Audience:
Adult
Language:
English
To listen to this title you will need our latest app
Due to publishing rights this title requires DRM and can only be listened to in the Blackstone Library Beta app
DRM (Digital Rights Management) is a copyright protection for digital media. While much of Blackstone Library Beta's content is DRM free, and allows for usage across platforms, select products on Blackstone Library Beta are required by publishers to have DRM protected files. These products will be playable exclusively on the BlackstoneLibrary.com apps, available for iOS and Android devices.
To listen to this title you will need our latest app