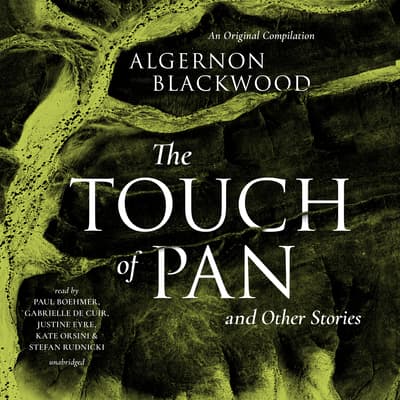 Format:

CD

(In Stock)
Available on 03/17/2020

ISBN: 9781094093352

Available on 03/17/2020

ISBN: 9781094093345

Available on 03/17/2020

ISBN: 9781094093369
Category:
Fiction/Classics
Audience:
Adult
Language:
English
Summary
Algernon Blackwood, a journalist and broadcast narrator, was one of the most prolific writers of ghost stories in the history of the genre. The title story, "The Touch of Pan," explores the lingering presence of myth in everyday life. In "The Glamour of the Snow," Blackwood winds a tale about a man's infatuation with a supernatural winter beauty. In "The Attic," the ghost of an usurer haunts the old Chateaux and, on the anniversary of a young boy's death, the boy's cat brings the family together. "The Willows" follows two campers who are on a canoe trip down the Danube, with the sense of a looming threat following them. When darkness falls, they pick the wrong place to sleep for the night—a place where another dimension impinges on our own. American horror author H. P. Lovecraft considered "The Willows" to be the finest supernatural tale in English literature.
Full contents:
"The Touch of Pan"
"The Transfer"
"The Occupant of the Room"
"The Valley of the Beasts"
"The Glamour of the Snow"
"The Pikestaff Case"
"The Tryst"
"Wayfarers"
"The House of the Past"
"Initiation"
"The Wings of Horus"
"The Attic"
"The Willows"
These stories were originally published between 1907 and 1924.
Details
Available Formats :
CD, Library CD, MP3 CD
Category:
Fiction/Classics
Audience:
Adult
Language:
English
To listen to this title you will need our latest app
Due to publishing rights this title requires DRM and can only be listened to in the Downpour app
DRM (Digital Rights Management) is a copyright protection for digital media. While much of Downpour's content is DRM free, and allows for usage across platforms, select products on Downpour are required by publishers to have DRM protected files. These products will be playable exclusively on the Downpour.com apps, available for iOS and Android devices.