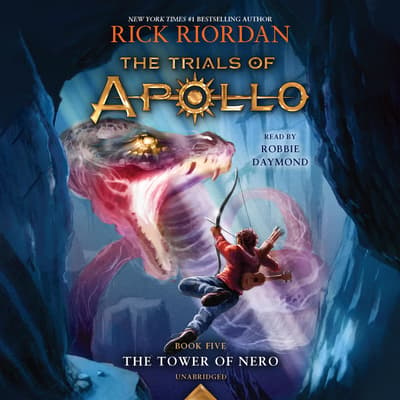 Format :

Library CD

(In Stock)
Runtime:
12.23 Hours
Category:
Fiction/Action & Adventure
Audience:
Children (8–12)
Language:
English
Summary
The fifth and final installment of the #1 New York Times bestselling Trials of Apollo series has Lester and Meg returning to where it all began: Camp Half-Blood.

At last, the breathtaking, action-packed finale of the #1 bestselling Trials of Apollo series is here! Will the Greek god Apollo, cast down to earth in the pathetic moral form of a teenager named Lester Papadopoulos, finally regain his place on Mount Olympus? Lester's demigod friends at Camp Jupiter just helped him survive attacks from bloodthirsty ghouls, an evil Roman king and his army of the undead, and the lethal emperors Caligula and Commodus. Now the former god and his demigod master Meg must follow a prophecy uncovered by Ella the harpy. Lester's final challenge will be at the Tower of Nero, back in New York. Will Meg have a last showdown with her father? Will this helpless form of Apollo have to face his arch nemesis, Python? Who will be on hand at Camp Half-Blood to assist? These questions and more will be answered in this book that all demigods are eagerly awaiting.
Details
Available Formats :
CD, Library CD
Category:
Fiction/Action & Adventure
Runtime:
12.23
Audience:
Children (8–12)
Language:
English
To listen to this title you will need our latest app
Due to publishing rights this title requires DRM and can only be listened to in the Blackstone Library app
DRM (Digital Rights Management) is a copyright protection for digital media. While much of Blackstone Library's content is DRM free, and allows for usage across platforms, select products on Blackstone Library are required by publishers to have DRM protected files. These products will be playable exclusively on the BlackstoneLibrary.com apps, available for iOS and Android devices.
To listen to this title you will need our latest app