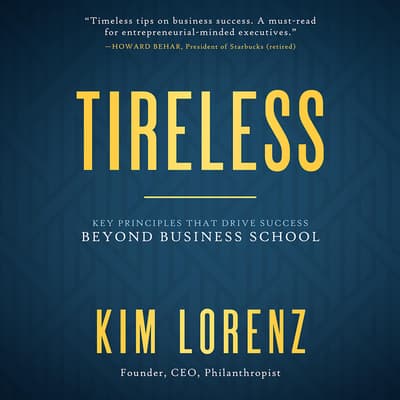 Format:

Library CD

(In Stock)
Available on 02/11/2020

ISBN: 9781982679699

Available on 02/11/2020

ISBN: 9781982679682

Available on 02/11/2020

ISBN: 9781982679705
Category:
Nonfiction/Business & Economics
Audience:
Adult
Language:
English
Summary
What is it that makes someone a success in business? What drives an individual to create success? Is it being hit by a "lucky stick," or is it something else?
Lorenz started from nothing, a common theme, but founded two companies, ran them successfully, and sold them to Fortune 500s. In this book he explains exactly how you can do it, no matter where you are in your business today.
Your next decision could dictate the trajectory your business takes. How you spend your time and the decisions you make all matter. You will enjoy learning from stories helping you see opportunities right in front of you, the opportunities that so many others fail to see.
If you do not take action on building your knowledge base, then nothing happens. Get inspired see hidden opportunities and learn from true business stories that aren't taught in business school.
This book is a must-listen for every business owner that is determined to win.
Details
Available Formats :
CD, Library CD, MP3 CD
Category:
Nonfiction/Business & Economics
Audience:
Adult
Language:
English
To listen to this title you will need our latest app
Due to publishing rights this title requires DRM and can only be listened to in the Blackstone Library Beta app
DRM (Digital Rights Management) is a copyright protection for digital media. While much of Blackstone Library Beta's content is DRM free, and allows for usage across platforms, select products on Blackstone Library Beta are required by publishers to have DRM protected files. These products will be playable exclusively on the BlackstoneLibrary.com apps, available for iOS and Android devices.
To listen to this title you will need our latest app