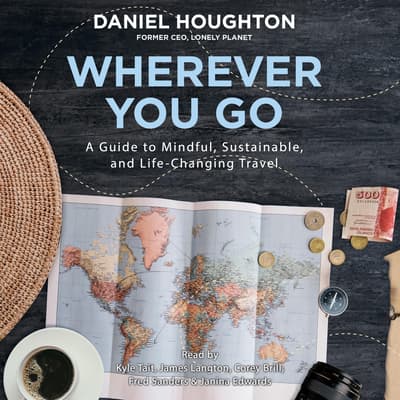 Wherever You Go: A Guide to Mindful, Sustainable, and Life-Changing Travel
Unabridged
Format:

Library CD

(In Stock)
Available on 11/26/2019

ISBN: 9781508299745

Available on 11/26/2019

ISBN: 9781508299738
Category:
Nonfiction/Self-Help
Audience:
Adult
Language:
English
Summary
From the former CEO of renowned travel guide publisher Lonely Planet, a look at how travel can transform not only the traveler, but also the world.

When Daniel Houghton was just twenty-four, he took the helm of one of the world's most iconic travel brands, Lonely Planet. This young visionary had to learn a lot, and fast—but luckily, the world was his classroom. In Wherever You Go, he shares his inspiring story of how constant travel opened his eyes to a greater diversity of experiences and perspectives than he could ever have imagined. He conducts in-depth interviews with other avid travelers—some professionals, some not—about how their own adventures have opened their minds and ignited other passions.

Houghton explores the growing trend of "mindful travel," a term that embraces not only green practices and leaving a light footprint, but also intellectual curiosity and respectful observance of other cultures—and a focus on living in the moment rather than posting the perfect photo on social media. He shows how we can practice this mindset even on the local level, when traveling to a new restaurant or exploring a new neighborhood. Woven throughout are fascinating travel stories from luminaries such as Barack Obama, Airbnb founder Brian Chesky, and Jane Goodall—people for whom travel has become not just a pleasure, but a meaningful life purpose.
Details
Available Formats :
CD, Library CD
Category:
Nonfiction/Self-Help
Audience:
Adult
Language:
English
To listen to this title you will need our latest app
Due to publishing rights this title requires DRM and can only be listened to in the Blackstone Library Beta app
DRM (Digital Rights Management) is a copyright protection for digital media. While much of Blackstone Library Beta's content is DRM free, and allows for usage across platforms, select products on Blackstone Library Beta are required by publishers to have DRM protected files. These products will be playable exclusively on the BlackstoneLibrary.com apps, available for iOS and Android devices.
To listen to this title you will need our latest app